MSRP:
$43,895
EPA Rating:
~230 miles
0 – 60 Acceleration:
Mid 5 seconds
Drivetrain:
AWD/RWD
MSRP:
$50,600

EPA Rating:
~300 miles

0 – 60 Acceleration:
Mid 5 seconds
Drivetrain:
AWD/RWD
California Route 1
Available Fall 2021
MSRP:
$52,400

EPA Rating:
~300 miles

0 – 60 Acceleration:
Mid 6 seconds

Drivetrain:
RWD
MSRP:
$59,900

EPA Rating:
~270 miles

0 – 60 Acceleration:
Mid 5 seconds

Drivetrain:
AWD
MSRP:
$60,500

EPA Rating:
~235 miles

0 – 60 Acceleration:
Mid 3 seconds

Drivetrain:
AWD
Available Fall 2021
The 2021 Ford Mustang Mach-E marks the very first electric addition to the Mustang lineup, and the Five Star Ford of North Richland Hills team can't wait to show you everything this all-new Ford electric SUV has to offer. Whether you opt for a 2021 Mustang Mach-E Select or new Ford Mustang Mach-E First Edition, you'll enjoy pulse-pounding performance as you race down Texas roadways. Meanwhile, the sophisticated Ford Mustang Mach-E interior will ensure that you and your passengers remain comfortable and entrained throughout every journey. Schedule a test-drive at our Ford dealership near Fort Worth, TX, today to discover everything the 2021 Ford Mustang Mach-E all-electric SUV has to offer for yourself!
2021 Ford Mustang Mach-E Specs & Performance
The 2021 Ford Mustang Mach-E harnesses the power of electrification to create a one-of-a-kind driving experience. This all-electric Ford SUV is designed to provide not only zero emissions, but also powerful performance with up to 346 horsepower. Electric All-Wheel Drive is available, too, so you can roam far and wide when you buy or lease a 2021 Mustang Mach-E Select near Fort Worth, TX. And when you opt for a new Mustang Mach-E GT model, you'll be able to accelerate from 0 to 60 mph in under four seconds!1

2021 Ford Mustang Mach-E Driving Range
When you buy a 2021 Mustang Mach-E at Five Star Ford of North Richland Hills, you'll be able to choose between standard and extended range battery options with either rear-wheel or all-wheel drive. When equipped with an extend range battery and rear-wheel drive, your new Ford Mustang Mach-E will be able to reach an EPA-estimated driving range of 300 miles!2 Plus, you'll never have to worry about losing a charge while on the road -- the connected navigation system can identify up-to-date car charging stations in Texas and prompt you to stop at the most convenient point on your journey.3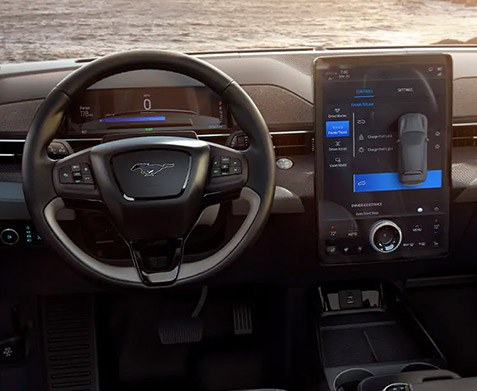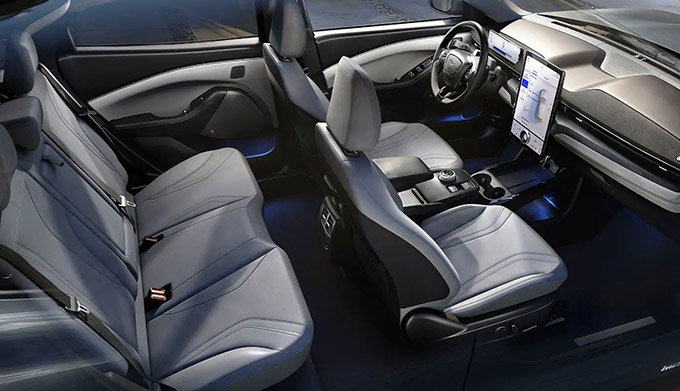 2021 Ford Mustang Mach-E Interior Features
Every new Mustang Mach-E SUV features a standard SYNC® 4A infotainment system, which comes with a 15.5-inch touchscreen, Enhanced Voice Recognition and Connected Navigation. Want to listen to all your favorite songs through the pulse-pounding, 10-speaker B&O™ Sound System by Bang & Olufsen? Finance a 2021 Mustang Mach-E Premium in North Richland Hills, TX, and make every adventure unforgettable.
2021 Ford Mustang Mach-E Technology & Design
The 2021 Ford Mustang Mach-E electric SUV offers a plethora of advanced technologies and design features that elevate this new Ford model to a class all its own. Some of the most exciting Mustang Mach-E features include:
Expand your vision. Enjoy a VIP view on every drive, courtesy of the available Panoramic Fixed Glass Roof.
Light the way. A light-up charge port is easy to locate in low-visibility conditions.
Staying connected is easy. An extra-large 15.5-inch touchscreen adds to a connected driving experience.
Sound that moves you. With 10 speakers and a unique sound bar with surround sound and more.
The interior features smart, human-centered design that's right at your fingertips.
No Wires. No worries. Wireless phone charging keeps you powered up on the go, minus the hassle of cords.
Adventures are better together. Ample legroom means everyone can love this ride.
Choose from 7 lighting shades to suit your mood: Ice Blue, Orange, Soft Blue, Red, Green, Blue and Purple.
Light 'em up. Signature tri-bar sequential LED tail lights announce their Pony heritage, even at night.
All-around Mustang. Featured on the front grille and rear liftgate is the iconic "Pony" badging.
Store cargo in back, front or both. The front trunk is water-resistant, washable and has a built-in drain.
Intelligent and easy entry. E-latch lets you unlock the door with a simple touch.
*Information received from: https://www.ford.com/suvs/mach-e/2021/
Mustang Mach-E : Reserve Yours Today
*Requires a $500 deposit